This tragic story really horrified us – our hearts immediately went out to the man's family.
Our second reaction was frustration.
This should never have happened. Not only was it entirely avoidable  – clearly a proper risk assessment wasn't in place – but it had happened before. Someone, somewhere, knew the risk and did nothing about it.
Heartbreaking.
Read on – and then think again why we keep banging on about health and safety…
A tragic case
A £100,000 fine was imposed by a court on a vehicle recovery company and a recovery vehicles manufacturer after a worker died of crush injuries.
John Wallace was jet washing a twin-deck recovery vehicle when the upper deck collapsed. He was trapped between the upper and lower deck and died of his injuries at the scene.
The Health and Safety Executive's investigation found that the vehicle recovery equipment was poorly designed by J&J Conversions Ltd. In addition, Ontime Automotive Ltd – Mr Wallace's employer – failed to control the unsafe design practice, as a limited number of employees within the company knew how to operate the device.
In fact, the incident had happened once previously. The upper deck had violently collapsed while in use by another company. The HSE found that J&J Conversions had failed to take appropriate measures to remedy the problem.
J&J Conversions Ltd of St Peter Street, Winchester pleaded guilty to breaching Section 6(1) of the Health and Safety at Work etc Act 1974. It was fined £100,000 and ordered to pay full costs of £9,490.
Ontime Automotive Ltd of Waterside Drive, Langley was found guilty of breaching Section 2(1) of the Health and Safety at Work etc Act 1974 . It was  fined £50,000 and ordered to pay costs of £50,000.
HSE inspector Stephen Kirton said: "This was a tragic and wholly avoidable incident caused by poor design and the failure to control unsafe practices.
Any company designing, manufacturing or supplying equipment for use at work must ensure that its safe operation is correctly considered and engineered in, and that foreseeable issues are properly considered. Companies should also ensure that employees are correctly trained to use workplace machinery.
"Companies should be aware that HSE will not hesitate to take appropriate enforcement action against those that fall below the required standards."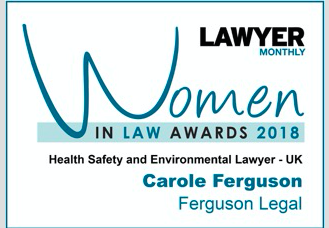 Don't put your employees at unnecessary risk.
If, and when, an unfortunate incident such as this one occurs and you need award-winning legal advice to guide you through the process from investigation to Court hearing then give us a call.
01224 900025